DeFi Docs #010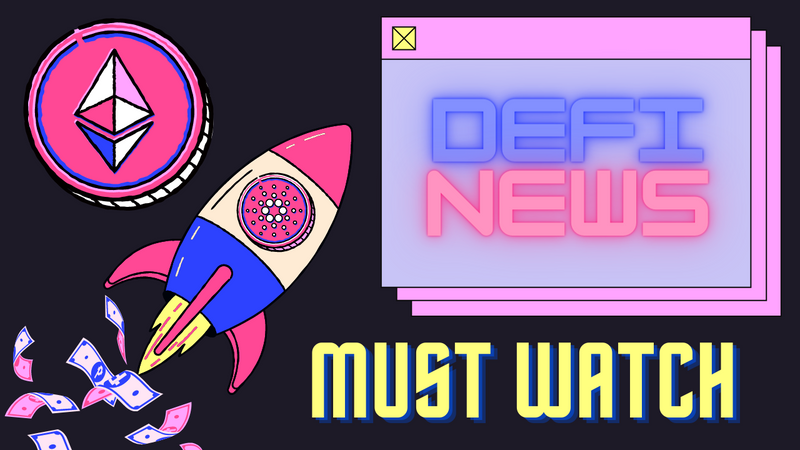 Cardano's SHOCKING Confession + New DeFi Giant Emerges
In this thrilling episode of our DeFi Docs series, we explore the explosive growth and fascinating developments in the world of DeFi. From the soaring Ether yields of Pendle Finance to the startling admission from Cardano's founder, we've got you covered with all the latest news, insights, and analysis. So, sit back, relax, and dive into the captivating world of DeFi with us.
Ether Yields Soar: Pendle Rakes in $50M
Pendle Finance is making headlines with its impressive $50 million in deposits, largely driven by its attractive Ether yields. By offering users high returns, flexibility, and risk mitigation, the DeFi protocol has become a top choice for yield-seekers. Pendle's innovative approach to yield management is truly disrupting the industry, and its future looks exceptionally promising.


Cardano Founder's Shocking Admission: Wrong Tech & Ambitious Roadmap
Meanwhile, Charles Hoskinson, the founder of Cardano, has admitted that the project's delays are due to betting on the wrong tech and an overly ambitious roadmap. While setbacks are never welcome, Hoskinson's candidness is refreshing, and Cardano's determination to push forward despite these challenges demonstrates the project's resilience and commitment to innovation.
All-in-One DeFi Platform Raises $5M: RenQ Stirs Up Buzz
RenQ Finance, an all-in-one DeFi platform, has recently raised an impressive $5 million. The buzz around the platform is largely due to its seamless integration of lending, staking, and trading services. RenQ's goal is to provide a user-friendly experience that allows crypto enthusiasts to maximize their DeFi earnings effortlessly, making it the ultimate DeFi Swiss Army knife.


Next-Gen DeFi Giant Emerges: MZero's Whopping $22.5M Reveal
On the other hand, next-generation DeFi platform MZero has emerged from stealth mode with an astonishing $225 million funding round. MZero aims to unlock the potential of DeFi by making it accessible to a wider audience through its user-friendly interface, cutting-edge technology, and a commitment to regulatory compliance. MZero is poised to become the superhero of DeFi platforms.
Bounty Alert: $95K Offered for Stolen Funds' Safe Return
Sentiment, a DeFi platform, has offered a $95,000 bounty for the return of stolen funds following a security breach that resulted in the loss of user assets. Sentiment's responsible approach to the situation is commendable, and we hope that their lost funds will make a return soon.


DeFi's Potential Benefits Recognized: A New Era Dawns?
The US Treasury has also recognized the potential benefits of DeFi following a risk assessment, as reported by CryptoSlate. This acknowledgment by the US government is an encouraging sign that DeFi is gradually moving from a fringe movement to a mainstream financial force, bringing transformative potential to the world of finance.
Bitcoin vs. Indexes: Bitcoin Crushes Traditional Indexes in Q1 2023
Lastly, Bitcoin has outperformed traditional indexes in Q1 2023, according to a report by Finbold. Bitcoin's strong returns compared to the S&P 500, NASDAQ, and other major indexes further confirm that cryptocurrencies are more than just a passing fad, validating the beliefs of crypto enthusiasts around the world.