DeFi Docs #009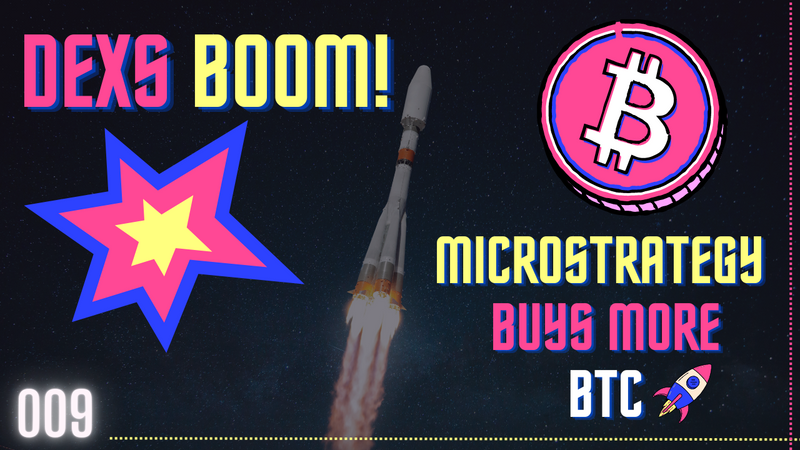 DEXs EXPLODE, MicroBitcoin Goes ALL-IN on Strategy & Binance's New Feature


In today's DeFi Docs, we bring you the latest developments from the DeFi world. From the significant surge in DEX trading volumes to MicroStrategy's unrelenting quest for more Bitcoin, there's a lot happening in the space. Let's dive into the key highlights from our latest YouTube video, which you can watch right here.
First up, decentralized exchanges are experiencing a massive boost in trading volumes, hitting a 10-month high amidst a US crackdown on the crypto industry. With stricter regulatory investigations and compliance measures, traders are increasingly turning to DEXs for their flexibility and censorship-resistant trading options. It seems that the decentralized world is thriving when faced with challenges from the centralized realm.


Meanwhile, Ethereum projects have united to launch a new Miner Extractable Value (MEV) blocker RPC. The collaboration aims to combat the negative impacts of MEV, such as front-running and sandwich attacks in the DeFi space. This innovative initiative paves the way for a more equitable distribution of profits, putting the focus back on users.
Binance continues to make waves in the industry with the launch of a crypto-to-fiat off-ramp feature in their self-custody wallet. This new feature enables users to easily cash out their crypto gains without relying on centralized exchanges, making the process of converting crypto to fiat currencies more seamless and accessible for users worldwide.


In other news, MicroStrategy has acquired an additional 1,045 Bitcoins, bringing their total holdings to an impressive 140,000 BTC. The company's unwavering support for Bitcoin sends a strong message to the market and other institutional investors, as they continue to bet big on the future of digital currency.
LayerZero, a cross-chain messaging startup, has successfully raised $120 million in funding to expand its efforts in improving interoperability between blockchains. This substantial investment, led by prominent venture capital firms, will help LayerZero bring different blockchains together, fostering seamless communication and collaboration within the DeFi ecosystem.


On the Ethereum scaling front, deposits to zkSync have surpassed $110 million, marking a significant milestone for the platform. As a leading solution for scaling Ethereum-based DeFi projects, zkSync leverages zero-knowledge rollup technology to reduce gas fees and improve transaction throughput, making it an attractive choice for both developers and users.
Finally, we have some delicious news from PancakeSwap, as the platform announces the launch of its V3 update. This latest version introduces various improvements and features, such as a new token burn mechanism. PancakeSwap V3 promises to make the DeFi experience even more appetizing for enthusiasts.