Mailchimp Bans All Crypto Accounts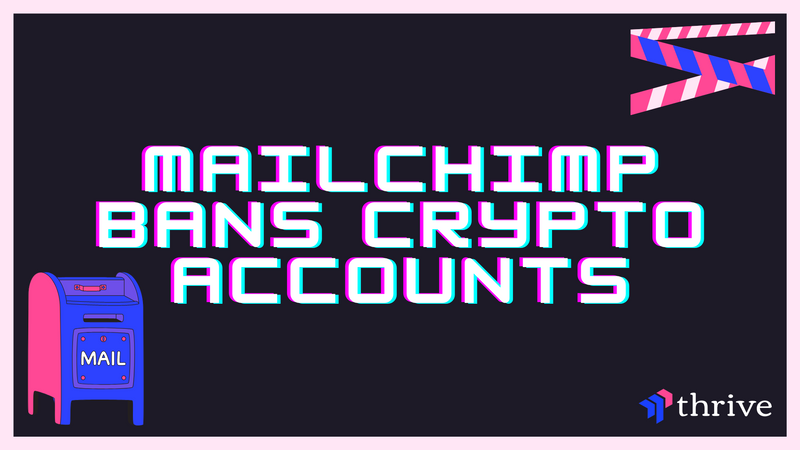 Recently, email service provider Mailchimp has banned all crypto-related accounts without warning including some of the largest accounts in all of crypto.
Some of the account bans include:
Ethereum Foundation, Non-Profit Organization Producing dApps
Messari, Crypto Research & Data Platform
CoinTelegraph, Crypto News Network
Decrypt Media, Crypto News Network
Ryan Selkis, Founder & CEO of Messari, took to Twitter to jokingly thank Mailchimp for "deplatforming some of crypto's most reputable brands in the last 48 hours." He later goes on to say Mailchimp is proving his point that "Mailchimp - and all speech censors - must be destroyed."
According to a recent article from CoinTelegraph, the notice they got from Mailchimp informed them that their account has been temporarily suspended due to terms of service violation.
However, when Mailchimp decided to ban all of these crypto accounts, crypto-related content hasn't been prohibited, yet Mailchimp is claiming all these accounts are promoting prohibited content, which is where the terms of service violation came from.
What's even more interesting about the whole situation is that Mailchimp just so happened to change their terms of service in May of 2021, & was later acquired by the financial software company, Intuit.
Fast forward to recent, & we see CEO of Mailchimp, Ben Chestnut, stepping down from his role for one of Intuits' own Rania Succar to step right in, coming over from Quickbooks Money, one of Intuits' subsidiaries.
For more updates & information, follow @ThriveDeFi.